Donate a tree for the Sahara school project!
Groasis wants to contribute to replant the most unique, special and mostly dry areas on the world. One of these places can be found in the Saharan Desert in Morocco.
M'hamid El Ghizlane is a small place in the Saharan Desert. The project 'Joudour Sahara' has been started in this oasis. This new music program will focus on preserving valuable ancestral cultural knowledge, and will provide music education to the youth in the remote area of Morocco. At this moment, the lessons are given in a temporarily classroom under charge of an American organization, the Playing For Change Foundation.
In addition to the music lessons, they offer young people the opportunity to raise awareness of the importance of the beautiful but vulnerable Saharan Desert, by planting bushes and shrubs on the terrain. The planting of trees and shrubs is led by the Sahara Roots Foundation. In the last couple of years, the Sahara Roots Foundation has grown various trees and shrubs with the Groasis Waterboxx® plant cocoon.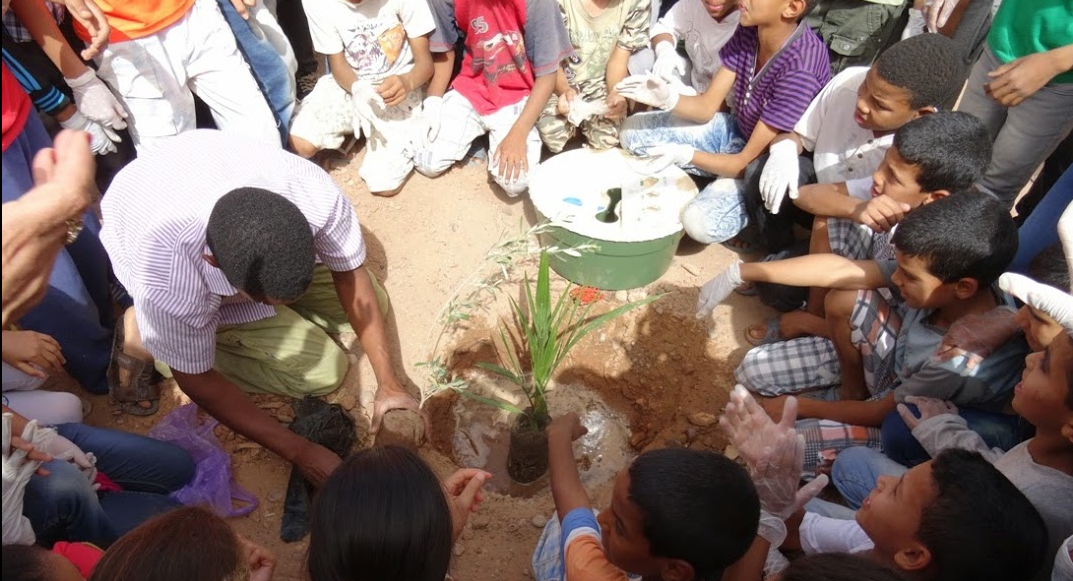 One of the earlier projects that were carried out by the Sahara Roots Foundation with students. Click here to see all the pictures of this project.
Donate and help us grow a new oasis!
To help the youth and to make a new oasis on the terrain of the music school, you can donate 25 USD. For every donation that has been done, we donate a Waterboxx® plant cocoon to the Sahara Roots Foundation. One Waterboxx® plant cocoon can be used at least ten times and your donation will bring the children and other people in the surrounding year after year joy!
To read more about the first donation project, please click here. To read more about the second donation project, please click here.