Ten times re-usable Waterboxx® plant cocoon
There are multiple big problems in this world. Desertification, sinking water tables, erosion, hunger and poverty. The patented Waterboxx® plant cocoon is to solution for these problems. The Waterboxx® plant cocoon reduces the water use in agriculture and trees can be planted with less water. The Waterboxx® plant cocoon uses 90% less water and the trees that are planted with it have a survival rate of more than 90%!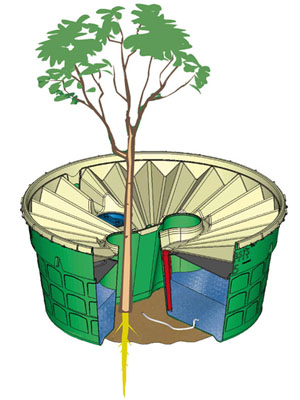 The low cost Groasis Waterboxx® plant cocoon
The UN published a dramatic report about the world's water situation, expecting water supply of 2.9 billion people in 48 countries to fall short of needs in as little as 10 years. In most of those countries over 80% of the water is used for agricultural purposes where most of the water is irrigated with drip irrigation. However, drip irrigation is a sniper water killer:
Drip irrigation uses 15 to 50 litres per tree per day. That looks little, but it means that one hectare of grapes with 2,500 plants uses 37,500 litres of water each day. (one acre with 1,000 plants uses 3,750 gallons each day). If water was priced at its costprice, growers could not produce crops with drip irrigation;
50% Of the given quantity of water through drip irrigation evaporates;
In nature dry soil is white. That is not a coincidence, it cools the soil. However, the water from drip irrigation makes the soil black, so it heats up terribly;
The black color creates ideal circumstances for root diseases like phytophtora, pythium and fusarium = high mortality;
The diseases require treatments with pesticides, so drip irrigation leads to unhealthy food; and the pesticides are expensive to use;
It also causes salination of the soil – slowly the salt level rises, until the soil is too salty for trees/plants to grow; fertile soil is slowly being destroyed;
Trees then die all and have to be replaced, sometimes including the soil; or growers leave the area, e.g. the Central Valley along Highway 5 between San Francisco and Los Angeles;
Cities have incredibly high costs of investment of the expensive grid structure, eternal pumps use, maintenance and replacement of expensive tubes.
Plant trees with less water
The Groasis Waterboxx® plant cocoon is the ideal alternative for drip irrigation. The Waterboxx plant cocoon is made from polypropylene (plastic) and therefore it can be used 10 times. The tree needs the box 9 till 12 months to grow. When the tree doesn't need the Waterboxx® plant cocoon anymore, you can carefully remove the box from the tree and re-use the box. You plant trees with 90% less water than drip irrigation and the other benefits are:
It is a cheap technology that costs approximately 2,50 USD per planted tree and it is approximately 90% cheaper;
It is approximately 90% cheaper and uses over 90% less water than drip irrigation;
It is an organic way of growing, so the use of pesticides is less or even nothing;
The survival rate is average over 90%. Read the convincing reports of the University of Valladolid of a 5 year research program with 24,000 Waterboxx® plant cocoons®;
It is an ideal solution for urban city farming to grow vegetables with over 75% less water use;
Proven technology: over 100 videos in 26 countries in our YouTube tree channel teach you all about successful tree planting, in 11 languages;
Proven technology: 16 videos in our YouTube vegetable channel teach you all about organic vegetable growing in your own garden, or with rural families, with the highest possible water efficiency, in 5 languages;
The Groasis Waterboxx® plant cocoon creates an incredible strong and deep penetrating root system.
See the results of plant trees with less water in the Waterboxx® plant cocoon
Look at the Gmelina arborea growth speed in Ecuador on the photos below. The extreme circumstances cannot prevent the strong growth. Did you know that Santa Helena, a peninsula of Ecuador, has the highest radiation on earth of 8,000 joules per day? And that the temperatures were over 41C (+106 Fahrenheit) each day during the planting period, there were salty winds from the Pacific Ocean and the average precipitation was 111 mm (4.2 inches)?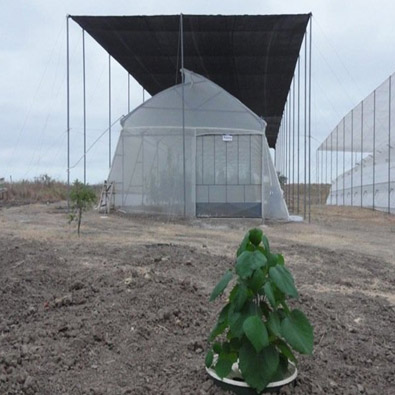 July 4 – 2012 – 2 months after planting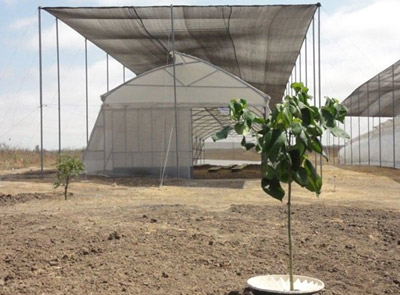 October 4 – 2012 – 5 months after planting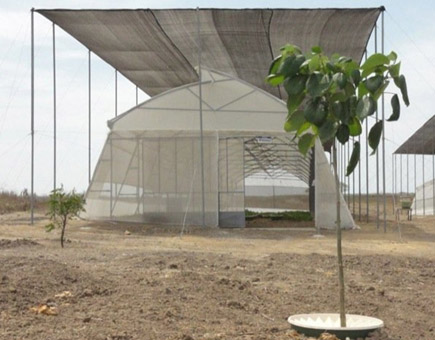 November 28 – 2012 – 7 months after planting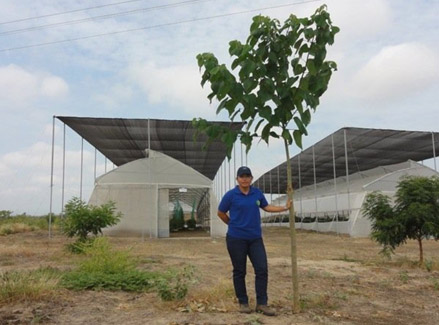 May 24 – 2013 – 13 months after planting
Start your own project with the Waterboxx
®

plant cocoon

Are you interested in planting trees with less water and do you want to use the Waterboxx® plant cocoon? That is possible! Click here to go to our shop. Do you want to start a bigger project and purchase more Waterboxx® plant cocoons? That is also possible. Please contact us and see how many Waterboxx® plant cocoons you need and how much discount we can offer you!