Plant big or mature trees with the Growboxx® plant cocoon
Until recently, you could only plant young saplings with the Groasis Ecological Water Saving Technology. In the past period we have made huge improvements in the design of the Growboxx® plant cocoon. This means that aside of planting young saplings in combination with bedding plants, native shrubs or plants, or vegetables, you can now plant big or mature trees in combination with these plants and shrubs. This capacity opens enormous possibilities for landscaping architects, gardeners, road owners and cities to save on expensive irrigation infrastructure, water and energy. Read more about the 'Triple 90 benefits' here.
Plant anything, everywhere, anytime
Cities invest huge amounts of money on expensive irrigation infrastructure, while having high costs of maintenance and energy for pumps. They also spill scarce fresh water that could better be used for personal use. Until now there was no method to plant big trees in dry areas without using irrigation. With the innovative Growboxx® plant cocoon you can plant any tree with any size and any age, without using irrigation, while helping to rise your survival rate to previously unimaginable levels.
The Growboxx® plant cocoon reduces water use with over 90%. The water in the Growboxx® cools down the soil around of the tree and in its rooting area. It prevents the growth of competing weeds, while you can combine the planting of the mature tree with bedding plants, bushes, vegetables, native plants or soil covers.
In general, one water filling is enough for a plantation. In many countries, the box will also refill itself partly through the cover that is able to harvest rainwater. In certain circumstances – for instance with extreme heat, extreme drought, with very sandy soil that has no water holding capacity, etc. - it might be helpful to add some extra water. This can then be done very easy: just lift the siphon ball and refill the box. The big diameter of the siphon opening allows to fill the box in a few seconds only.
Plant all kinds of trees!
On the image below you can see how you can use the Growboxx® plant cocoon to plant trees with stem diameters from 10 cm (4 inches) to, if necessary, 100 cm (40 inches). We can now help to green cities and create a cooler and cleaner environment for its inhabitants, while avoiding high costs of irrigation. Enjoy the Growboxx® 'Triple 90 benefits': save 90% water, achieve a survival rate of +90% and reduce costs with 90%! In order to give you a possibility to get to know more about the enormous advantages of the Growboxx® plant cocoon, we have created a special offer of 100 boxes to do a trial planting. Buy your test boxes here!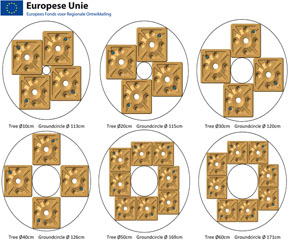 Click on the image to enlarge