Download the free manual app of Groasis
In every box, on every pallet and in every container, we add a paper manual of the Waterboxx® plant cocoon. But, sometimes it is more useful to have the manual on your smartphone. To plant the trees and/or vegetables in the right way and under the right circumstances, we have made the free Groasis manual app.
The entire planting process is displayed step by step with different photos. Are the instructions still unclear or do you want more detailed information? Please look at the Groasis Waterboxx® plant cocoon manual here.
To download the free Groasis manual app, please scan the QR-code below.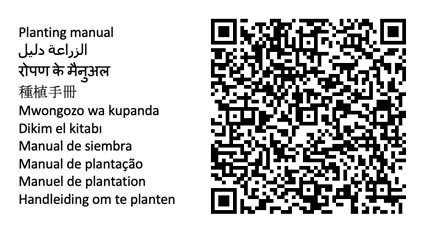 Do you have an Android device? Click on the following link:

Do you have an Apple device? Click on the following link: