Compare the costs of the Groasis Technology with drip irrigation
We talk a lot about (drip) irrigation and that our the Groasis Ecological Water Saving Technology a good replacement is. With the Groasis Ecological Water Saving Technology you do not only save a lot of save water compared to the current irrigation techniques, but you can save money too!
What is irrigation?
Irrigation is simply the artificial supply of water to crops. In poor countries this is done, for example, by carrying buckets with water from a river or ditch to the crops. In western countries people use mainly drip irrigation, surface irrigation or spraying on a large scale.
In poor countries, the irrigation systems that we use are not affordable for the bigger part of the society. The irrigation systems aren't only expensive to build, but consume a lot of energy and water too. For people with a small budget who want to grow fruit trees and/or vegetables, we have developed the Growboxx® plant cocoon. With the Growboxx® plant cocoon the grower can save up to 90% water – compared to drip irrigation – and they don't need energy!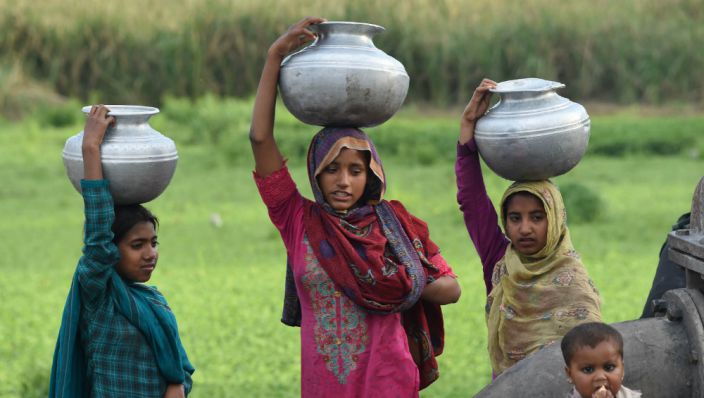 In poorer countries, people often have to carry water from ditches or rivers and have no access to clean drinking water. In the picture you see girls from the slums in Lahore (Pakistan). Photo: Metro news.
How can you save money on (drip) irrigation?
Below you will find an Excel document with a comparison of costs between the Groasis Ecological Water Saving Technology and the drip irrigation technology. You can download and adjust the Excel document according to your local circumstances and calculate your savings.
In the document you will find:
The short-term effects on the first 10 years
The long-term effects on the following 75 years
Planting with the Groasis Ecological Water Saving Technology will save you a lot of money on your annual costs, your energy use, the ground water use, maintenance and your capital need.