How to increase the nutrients in your fruits and vegetables
Are you a big fan of gardening and growing your own fruits and vegetables? Then there is a great and effective solution to increase the important nutrients and vitamins in your fruits and vegetables. A solution that will save you money and water and doesn't need any energy. Curious about this solution? Go on reading!
Which nutrients do fruits and vegetables contain?
There are various important nutrients in fruits and vegetables that are good for our body. You can think of calcium, iron and magnesium. Because fruits and vegetables contain a lot of important nutrients, it is advised (for an adult) to eat every day around 200 grams (7 oz) of fruit and around 250 grams (9 oz) of vegetables.
A great way to eat fresh and pesticide-free fruits and vegetables is to grow them in your (community) garden or on your balcony. You don't need a lot of space to grow and if you do it the right way these fruits and vegetables will contain more nutrients than the ones that have been growing in greenhouses and you will find in the store daily.
How to grow more nutritious fruits and vegetables in your garden?
A way to increase the nutrients in a single fruit is to grow them with less water. A great help device is to use the water saving re-usable Waterboxx® plant cocoon or the biodegradable Growboxx® plant cocoon. We did some scientific research with tomatoes while growing them in a greenhouse and in the re-usable Waterboxx® plant cocoon. The tomatoes that have been growing in the Waterboxx® contained higher values of:
Sugar: the tomatoes tasted sweeter than the tomatoes from the greenhouse
Potassium: potassium regulates the moisture balance and blood pressure in the body together with chloride and sodium. It also ensures that nerve impulses are properly guided and that muscles contract.
Calcium: this mineral is necessary for the construction and maintenance of bones and teeth. If you get enough calcium, you have less chance of osteoporosis at a later age. It is also necessary for proper functioning of nerves and muscles, the transport of other minerals in the body's cells and to prevent blood clotting?.
Magnesium: we need magnesium for the formation of bones and muscles, to transfer stimuli in muscles and nerves, the functioning of enzymes and the energy production of the body's cells.
Sulfur: sulfur is important for our enzymes, amino acids, hormones and proteins. It is also the most important component of the protein collagen, which is responsible for connective tissue (firm skin) and cartilage.
Phosphate: this mineral together with calcium gives firmness to bones and teeth. It also fulfills a function in the energy metabolism (temporary storage and transport) in the body.
Iron: iron is very important for the formation of hemoglobin, a component of red blood cells. Iron is also needed to produce energy in our cells and it contributes to a normal functioning of the immune system.
Zinc: this is a mineral and a part of many enzymes in our body. Zinc ensures the building of proteins, growth and renewal of tissue, metabolism and proper functioning of the immune system.
Click here to find the values of nutrients of tomatoes that have been growing in a greenhouse. Click here to find the values of nutrients of tomatoes that have been growing in the water saving Waterboxx® plant cocoon.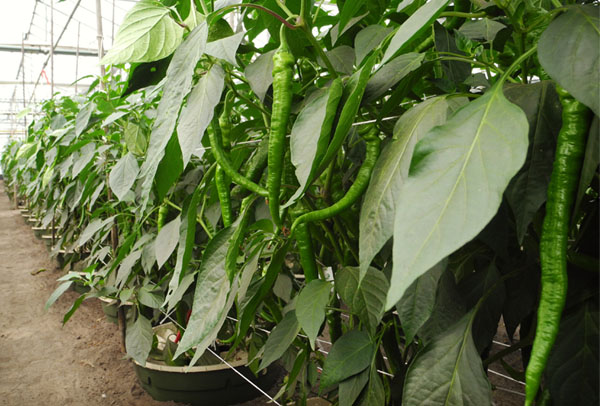 Green peppers that have been growing in the Waterboxx® plant cocoon
How do you start growing food in a healthy and water saving way?
The question is not ''how to start'', it is ''when will you start''? When you order a Growboxx® plant cocoon or Waterboxx® plant cocoon in our online store, and you receive it at your house, you can start immediately! Plant saplings of fruit trees or vegetable plants in your garden, place the box around the small plant, fill it with water and you are done! The only thing you have to do is to watch it grow and you can enjoy the delicious results already after a couple of weeks or months.
We even have a success case of someone who is trying to beat the Guinness Book of World Record for 'Most tomatoes from a single plant' in his small garden in the heat of California. Curious how many tomatoes he had grown last year in a Waterboxx® and how much water he saves? Read it in this article.
When will you start?