Plant trees and vegetables the whole year
At this moment, trees are planted just before – or during – the rain season. This means that the planting period is very short. Having a short planting period causes a lot of difficulties, namely:
You need too many workers in a too short period to be able to plant substantial numbers of trees;
As the work is every year newly done, in general inexperienced people are hired;
The sapling producer has to produce and deliver in peak periods. Delivery problems may occur;
This means that after delivery the saplings are stored under less desirable circumstances as there are too little shade house facilities available for too big quantities;
The production per man hour is unpredictable and therefore cannot be calculated. Therefore, the cost price of planting trees is uncertain;
As a result of this, it is difficult to offer the service of planting of big areas by forestry companies to interested parties;
It is also difficult for investors to calculate the cost price of planting trees in advance.
Planting with the Groasis Technology can solve all these problems
The problems that may occur while planting with the current plant techniques can be solved very easily while planting with the Groasis Ecological Water Saving Technology. You can plant trees or bushes every season with the Waterboxx® and Growboxx® plant cocoon. Some other benefits of planting with Groasis in every season are:
With the Waterboxx® and Growboxx® plant cocoon you can plant the whole year – so every season – trees (as long as the day temperature is below +30°C);
The number of trees that have to be planted per season per hour can be pre-calculated. There can be easily made a cost calculation for – for example – an ecosystem restoration project;
You can plant the whole year with the – designed by Groasis – capillary drills. Planting with the capillary drills allows a reduction of labor costs, higher efficiency and are designed for rocky conditions;
Because you can plant every season, we can take away the peaks in the whole chain of participating suppliers, what results in a constant cost price of trees.
Besides that, the survival rate of trees who are planted with the Waterboxx® and/or Growboxx® plant cocoon is extremely high (if you plant according the plant instructions). It doesn't matter for the Groasis Ecological Water Saving Technology in which season you plant trees.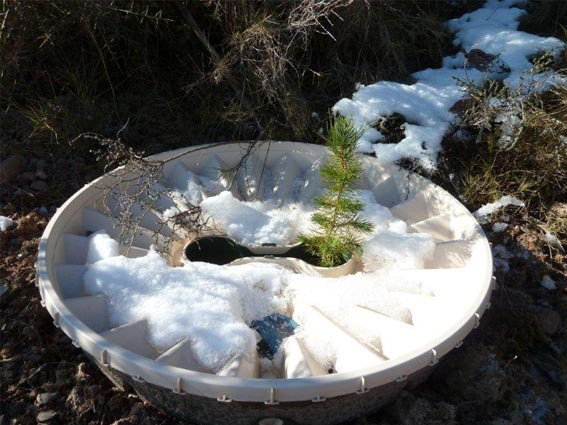 The Waterboxx® plant cocoon is covered with snow. Thanks to the micro climate that the box creates, snow isn't a problem