Over 4,300 tomatoes from one plant, supported by the Waterboxx®
Updates January and February 2018
January 22
We still can't believe it, but Juliet is still going strong. With a total of 4,301 fruits, and a total weight of 140.8 lbs. (63.9 kg). In January, Bill harvested 9.38 lbs. (4.3 kg). The fruit, overall, with winter, gets smaller, but still produces many in the 15 to 20 gram range.
Barring the change of getting more freezes over the next month and a half (Bill had two, and a few near misses), it will easily reach 150 lbs. (68 kg) in the next 30 days.
The plan is to then cut it back severely. Let it start anew, except of course with the old, well developed root system. It would then be the "two-year tomato plant". After all, tomatoes are perennials in the right climates. Bill completely understand that readers would be very skeptical.
February 8
Juliet climbed to 150 lbs. (68 kg). almost two weeks earlier than Bill thought it might. He picked 1.50 lbs. (0.7 kg) this morning and totals went to ...
Fruits: 4,655
Weight: 150.86 lbs. (68.3 kg)
Ripening, along with fruit size is still fair (for winter). But fruit set is spectacular. The largest fruit today was 21 g., with most in the 12 to 15 g. range. He never includes any fruits in the count that he wouldn't eat himself (and he can be fussy). The plant yielded 8 lbs. (3.6 kg) in the first 8 days of February.
But for the good of the plant, four days ago he began trimming it back. For its 2nd year he wanted to give it (as much possible) a strong/easy start. The newest branches (low on the plant) are healthy and green, no disease, and already bearing fruit.
Harvest hundreds of tomatoes in a sustainable way
To give you an idea of what Bill means by trimming the plant back, which includes fruit and (most) branches, see the photo below. The bowl is holding almost 6 lbs. (2.7 kg) of young, green fruits... Several hundred tomatoes. He tried to keep count as he plucked, but soon lost it. None of these fruits were added into the 150 lbs. total given above.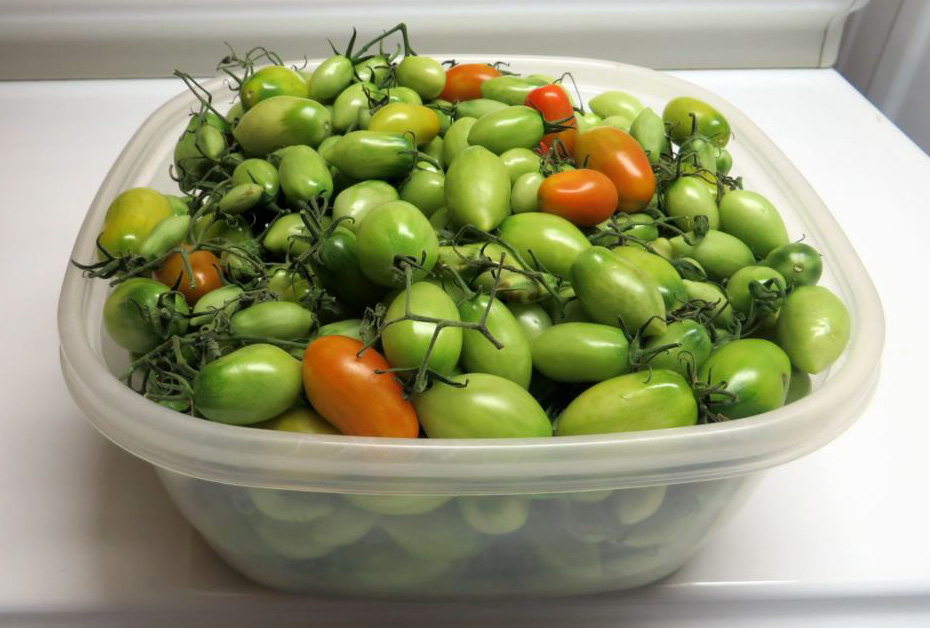 February 8, 2018 - Several hundred Juliet tomatoes Bill had to discard to get the plant ready for its 2nd year of growth. In just two days indoors, some of the green are ripening.