Which tomato varieties do you need to plant to get a high yield?
Updates October 2017
October 3rd
How did the tomato plants produce during the summer of 2017? Well, with no rain and a summer that seemed hotter than ever, the production was good! Big Beef was growing in a Waterboxx® plant cocoon with four wicks (the answer to the heat and rain problem).
In total, Big Beef gave 270 fruits with a total of 83.40 lbs. (38 kg)! The plant was growing vertically on strings with minimal pruning. Virtually the entire harvest came from flowers that pollinated by the middle of June. Then the long heat wave started. The plant was able to produce almost no fruit after June 14th. Like Early Girl (last year), it exhausted itself with the first huge harvest and heat, refusing to set fruit thereafter. On the other hand, from August 1 on, Bill gave it no water (the wicks stopped working by the end of July).
Juliet was growing in a Waterboxx® plant cocoon with four wicks too. For a small fruited variety, it's production was remarkable! Today, the plant gave 2,420 fruits with a total of 88.71 lbs. (40 kg).
It lost about 4 weeks of solid production due to the heat. But, every time the temperature dipped into the low 90's (°F) (32°C), it would set some new fruits. Like Big Beef, it got no water after August 1. The plant is still producing: this morning, 25 fruits, 1.52 lbs. (0.7 kg). Bill thinks it's good for another 10 to 20 lbs. (4.5 to 9 kg) especially if he starts giving it a little water down the center hole.
A quick overview of the last months for Juliet:
June: 2.63 lbs.
July: 22.58 lbs.
August: 14.45 lbs.
September: 47.40 lbs. // production resumed with lower temperatures.
October 3: 1.52 lbs. // and counting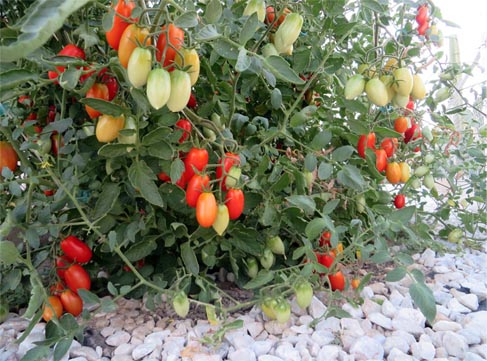 The tomatoes may be small, but Juliet is producing large amounts!
October 9
At this moment, Juliet stands at 2,571 fruits, with a weight of 93.33 lbs. (42.3 kg). All the fruits have an excellent eating quality. Bill has removed the Big Beef plant this morning. He gave 275 fruits with a weight of 85.17 lbs. (38.6 kg).
On the place of Big Beef, Bill will plant an Early Girl. It will be an experiment to see if Bill can coax it through the winter months in good condition, so it will be strong in the spring.
Accordig to Bill, the following varieties are capable of 100+ pounds of tomatoes in the Waterboxx® plant cocoon. Most or all should produce well in just about any climate.
Beef Master (hybrid)
Better Boy (hybrid)
Big Beef (hybrid)
Early Girl (hybrid)
Juliet (hybrid)
Stupice (heirloom)