Grow tomatoes in December! The Waterboxx® makes it possible
Updates December 2017
December 12
As unbelievable as it sounds, at this moment is Juliet still producing! Total count:
Fruits: 3,547 fruits
Weight: 121.47 lbs. (55 kg)
As you might have seen for the U.S. news, last week Bill had some of the fiercest Santa Ana winds ever, and they were fanning five wild fires. Wind gusts up to 90 mph made it dangerous walking around outside.
The Juliet sustained major damage on the windward side, foliage stripped off and dozens of fruits missing. Required heavy cleanup/pruning, re-stringing, because the trellis came down, too. Bill will go even stronger next year with the bands to hold the vertical supports in place. Nevertheless, this morning Bill picked 52 nice fruits, 1.51 lbs. (0.7 kg). Most of these came from the undamaged side of the plant. New tiny new fruits still developing.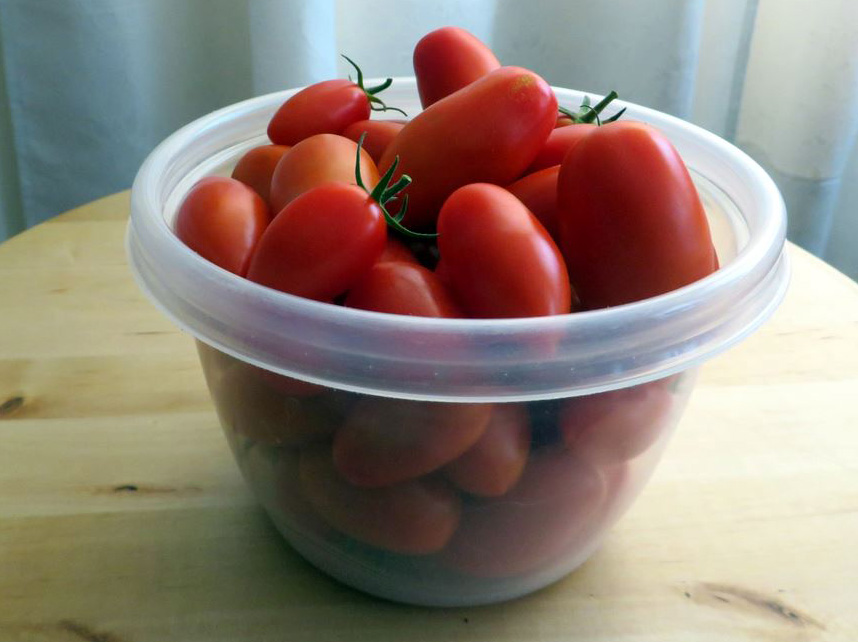 December 12, 2017 - Picked today, 52 ripe Juliet tomatoes (1.51 lbs. - 685 grams). Notice how nicely they ripened on the plant, even with night temperatures in the 30's and 40's (F).

Harvesting tomatoes in December
It is already December 19, but it is amazing, the plant still produces at this moment! The plant just won't give up. December has now surpassed both October and November. In December, 540 fruits have been picked with a total weight of 15.58 lbs. (7.1 kg).
Just down the hill from Bill's house, 50 feet below (1.5m), they had two recent freezes. Because of our micro-climate/elevation, Bill stayed a couple degrees above freezing.
What have we learned about this plant (in Waterboxx®) that Bill believes no one else has reported?
The plant is strong and prolific all year. Doesn't run out of steam. Must mention that the fruit is sweet and delicious, else why bother?
It sets fruit in heat or cold. Bill would say it surpasses Early Girl in that respect.
When it finally gets some leaf disease late in the season, it tolerates it well enough to keep producing.
Should do extremely well in any climate where tomatoes will grow.
A few years back, Bill read about a grower that claimed 50 to 60 lbs. (22 to 27 kg) per plant. He tended to think he was exaggerating. No one else claimed anything near that. Bill had to find out for himself.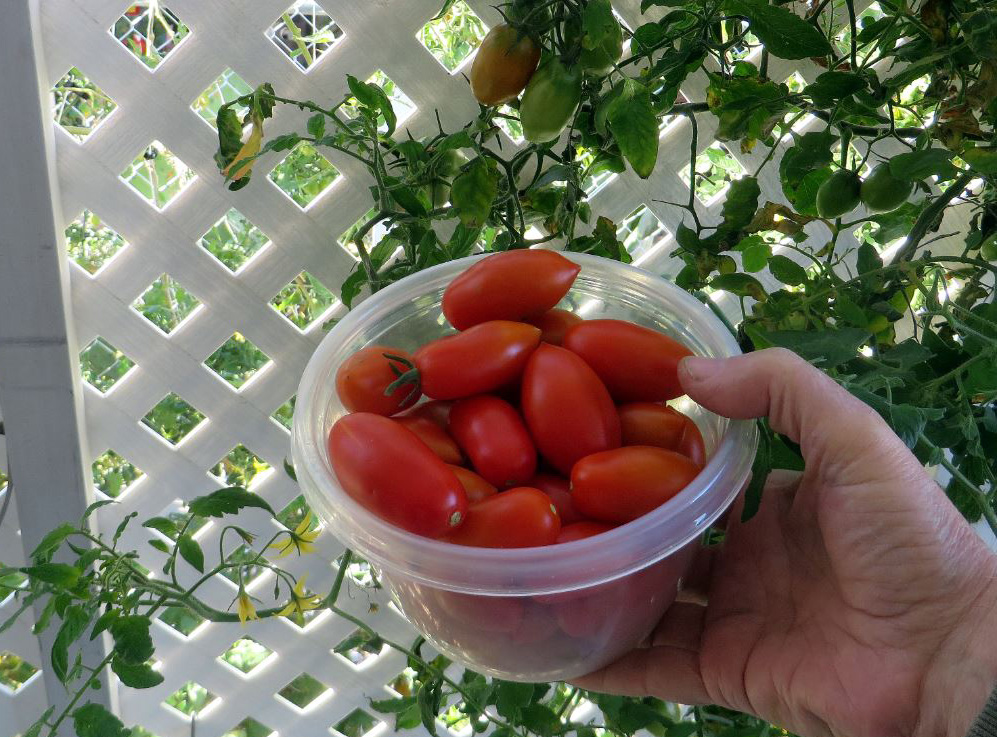 December 19, 2017 - Juliet tomatoes. Another 1.42 lbs. (647 grams) of ripened tomatoes harvested from the plant this morning. Unbelievably, it's still setting new fruits!