Successfully growing lemon trees in combination with vegetables with the Growboxx®
Press message 14-08-2018
Award winning start-up Groasis can help end the world's food problem
ENSENADA/MEXICO, AUGUST 14, 2018 – The devastating effects of drought are clearly visible to all. The Podesta family in Mexico are part of the 800 million rural families who rely on agriculture to make a living and feed themselves. During the recent years it has become increasingly difficult for them to grow enough fruit and vegetables. The revolutionary and sustainable Growboxx® plant cocoon offers a fruitful future for this family, and any other family on our planet, by allowing them to grow their own food using 90% less water and at 90% lower cost.
There is hope for rural families who live in dry and hot climates. The Groasis Ecological Water Saving Technology offers a new way to end the food crisis that affects some 815 million people who go to bed hungry every night. To demonstrate the effectiveness of its invention, Groasis has financed a simple but effective greenhouse at the property of the Podesta family. This low-cost greenhouse requires no climate regulation and the natural resources in the area are not being depleted. In combination with the Growboxx® plant cocoon it gives the family the opportunity to create an orchard of fruit trees, while providing an abundant vegetables harvest year after year.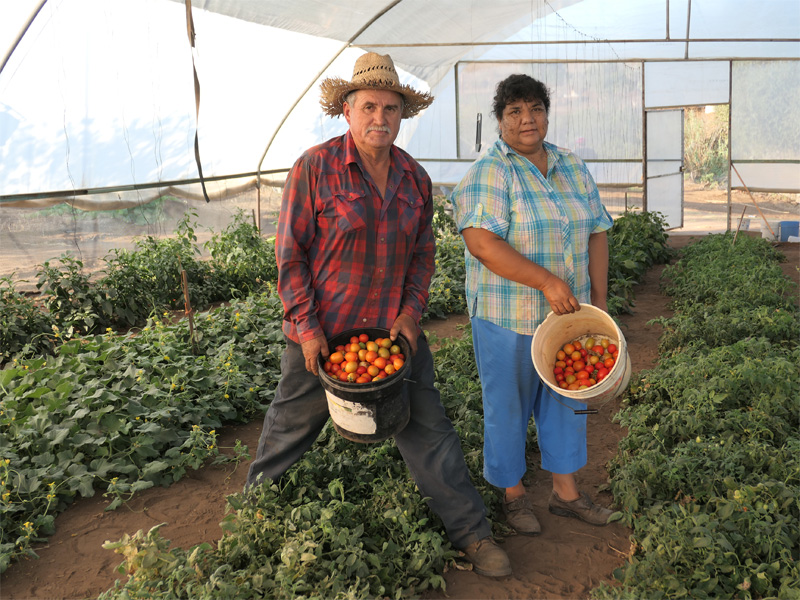 "I am so happy that my family can eat healthy vegetables every day,
and that we still have enough produce to sell on the local market." – Mrs. Podesta
Whole communities are benefitting from Groasis' groundbreaking technology. The world's largest humanitarian organization that addresses hunger and promotes food security, the UN World Food Programme, is completing a pilot with 200 women across 13 locations in Colombia with Groasis. Various fruit trees have been planted with the 'intelligent bucket' that Groasis developed. If the pilot is successful, the project may be rolled out on a larger scale to make more communities self-sufficient.
"It is great to teach women and children how to plant trees and vegetables,
so they will have a nutritious and sustainable future." – Ms. Aranda
By planting and growing productive trees in combination with vegetables, the Groasis Growboxx® plant cocoon restores degraded land that suffered from
drought and dropping water tables
. The 'intelligent bucket' makes it possible to grow trees in combination with food producing bushes or vegetables while using 90% less water, reducing the costs by 90% and resulting in a survival rate of more than 90%. More information about food production with the Groasis Technology can be found on
Groasis' educational vegetable growing channel
.
---
Note to editors:
About the company: The Groasis Ecological Water Saving Technology was developed by Groasis B.V., a social enterprise from the Netherlands that has developed multiple products to grow productive trees in combination with vegetables, shrubs or flowers without the use of extensive irrigation systems. With these products, ideally suited for both eco system restoration and agroforestry, dry lands can be made productive again while at the same time the CO₂-concentration in the atmosphere can be reduced.
Contact information:
Celine van Haaften – mail to:

This email address is being protected from spambots. You need JavaScript enabled to view it.

or call +31 (0) 167 – 54 75 54
More information can be found on: www.groasis.com