Growing sustainable fruits with higher sugar contents
Press message 13-06-2018
Saving 42 million US households from GMO
HEMET/CALIFORNIA – One of the ways to prevent your family from GMO food is to produce food yourself. Food gardening is currently gaining a lot of popularity throughout the United States. Mr. Bill McNeese from Hemet, California, has found a revolutionary method to grow tomatoes in his small garden in such large quantities that he even can be the winner of the Guinness Book of World Records for ''Most tomatoes from a single plant".
In 2013, already 42 million households in the United States were active in food gardening in their own or a community garden. What if there was a way to get healthier food, save our lives from deceases and be more efficient with our scarce water [1] at the same time?

The solution is already here. With the water saving and ten years re-usable Waterboxx® plant cocoon it is possible to grow fruits and vegetables in a sustainable and water saving way. The Waterboxx® plant cocoon is not only the solution for producing pesticide-free food for the yourself and your family, it is also the solution for the increasing world population that needs 40% more food within 35 years [2].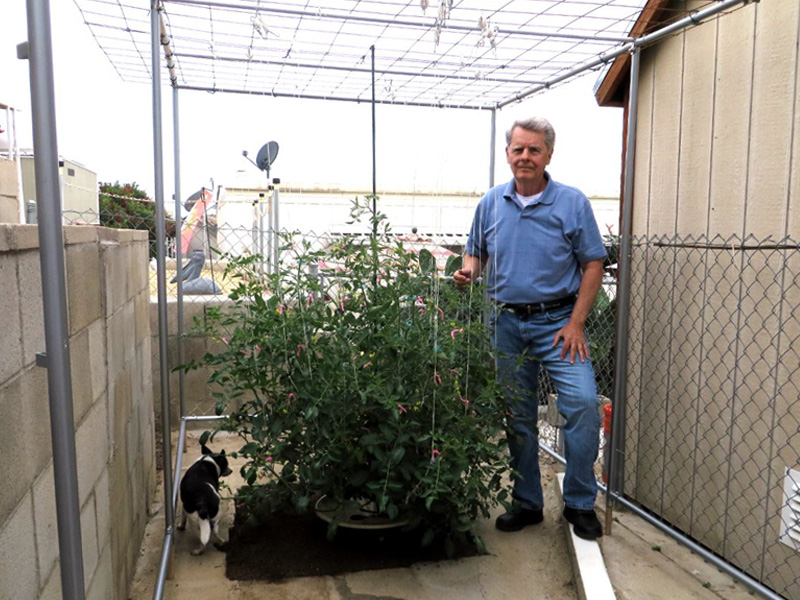 Bill McNeese, next to his 2.5 month old tomato plant of the species Juliet
Currently, Mr. McNeese is showing that it is possible to grow tomatoes at a tremendous speed without using harmful pesticides. The best thing of all? His garden is not bigger than a couple square feet. Even with this little space he managed to harvest 4,655 tomatoes last year from one single tomato plant. This is enough to feed his whole community tomatoes during the year!

Since Mr. McNeese is growing the tomatoes according to the Triple 90 Benefits of Groasis (90% less water is needed, 90% lower costs and a survival rate of +90%), the sugar contents are 50% higher compared to normal cultivation [3]. Besides this, a tomato from the Waterboxx® plant cocoon contains 20 % more potassium, 40% more calcium, 20% more zinc and other important minerals. Our bodies need this! On the short term the first counting will be executed in his garden by two volunteers. Do you want to be there too, or do you want to film this incredible event? Join the counting and taste the difference in tomatoes by yourself!
[1] The United Nations published that in 2025 48 countries will suffer from water scarcity.
[2] The world population will grow from 7 billion people to 10 billion people is 2050
[3] Minerals and sugar contents: normal cultivation / cultivation Waterboxx plant cocoon
---
Notes to editors:
For more information, please contact:
Mr. McNeese, California via (951) 965-5574 or send an

This email address is being protected from spambots. You need JavaScript enabled to view it.

.
Celine van Haaften, Groasis/The Netherlands via +31167-547554 or send an

This email address is being protected from spambots. You need JavaScript enabled to view it.

.