The Groasis Technology supports the Earth Charter in order to realize a righteous, sustainable and peaceful global community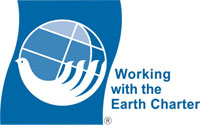 The Earth Charter is a declaration in which a number of fundamental and ethical principles are stated, that are needed to realize a righteous, sustainable and peaceful global community in the 21st century.
The Earth Charter consists of four main principles, which are further divided into 16 sub-principles. The four main principles say:
Respect and care for all forms of life
Ecological Integrity
Social and economic justice
Democracy, nonviolence and peace
At the Earth Charter, the main point is to look at our future. The earth becomes increasingly vulnerable and it is time to intervene. We must recognize that we also form one dimensional human family in the midst of a magnificent diversity of cultures and life forms, and form one Earth community with a common destiny: offer our (grand)children a good future and let Earth preserve its natural life forms.
In order to achieve this sustainable global society which is founded on respect for Mother Earth, universal human rights, economic justice and a culture of peace, we must all unite.
How and why does the Groasis Technology participate in the Earth Charter?
The mission of Groasis is to replant the 2 billion hectares of degraded farmland with productive trees. By doing this, we do not only want to make the world a greener place, but we also aim to solve the seven problems that humanity faces today:
Erosion
Poverty
Food crisis
Climate change
Unemployment
Rural-urban migration
Falling groundwater level
We believe that planting (fruit)trees and vegetables on degraded land without the use of irrigation can greatly help to tackle these problems. That is our mission. We will do everything we can to achieve our mission, but we do it with respect for the environment and all life in its diversity. In addition to that, Groasis finds it extremely important that everyone gets equal opportunities, both nowadays and in the future. By offering the Groasis Technology as cheap as possible, we would like to give (poor) people the chance to plant their own fruits, vegetables and productive trees so that they can eventually earn money and provide themselves with food.
It is incredibly important that people become aware of the problems that the world is facing nowadays. Please help us to make the world a better place and become a Green Musketeer!