Ecuador - The first Green Musketeer project, planting trees with 3.000 students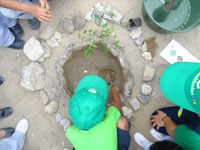 On July 28, 2014, the first Green Musketeer project of Groasis has started. In total, 3.000 students planted two trees in Santa Elena, Ecuador. The project is called 'Be a Green Musketeer, a future for the childhood in Ecuador'.
Instead of focussing on fear, Pieter Hoff chose to develop the Green Musketeer concept, based on the idea 'planting trees' is synonymous to 'having fun'. He inspired a Dutch philanthropist to finance a pilot and received 325K Euros for it (the project is financed by the COmON Foundation from the Netherlands). 40 Schools in the poorest part if Ecuador participated in a competition of planting trees, whereas participating schools received computers – value is a half year salary in Ecuador - for their participation. The schoolchildren had ages between 9 and 11 years old. From each school the 5 children with the 5 highest trees after a year, the 5 schools with the 5 highest total length of the trees and the 5 children of all the schools with the 5 highest trees received an extra computer.
We opened the project bringing all the children together to the Universidad de Santa Helena and made a big party event of it, with big toys, life music, dancing, etc. Every child was obliged to give their tree a name. What was expected – the name giving will create an enormous love and wish to take care for – happened: all children involved their parents (planting, making fences, bringing used cooking water to their tree, etc.). The children taught their parents well. Not one tree died! And more important: until now all these trees are protected by the children who started to love them.
The children planted one tree with one Waterboxx® plant cocoon on their playground at the school, and they had to take the other fruit tree with the Waterboxx® plant cocoon to their home. In the period after the planting, the students will have a growth speed competition. They receive a manual on how to take care of the trees and Waterboxx® plant cocoons to get the best results as possible. Please check the video below to get an impression on how children will associate planting trees.
The project is implemented by Fuente de Vida Foundation Ecuador.