Planting trees in Iran and creating a greener environment
Groasis has carried out many projects across the globe in different weather conditions, soil types and heights. One of the countries where we have been very successful is Iran.
The climate of Iran
Iran is a country with multiple climate zones. This means that at a certain day of the year it holds in itself harsh and cold climates in its mountainous areas, a mild and humid climate near the Caspian Sea, a hot, dry climate with long summer and short cool winters at the center. The coldest month is January with temperatures form 5°C to 10°C. The climate of Iran is determined by Iran's location between the subtropical aridity of the Arabian Desert areas and the subtropical humidity of the eastern Mediterranean area. According to the Köppen-Geiger classification, Iran has at least 4 different climate zones. From a hot, dry desert climate with annual average temperatures above 18°C to a cold snow climate with dry summers and wet winters.
Around 70% of the average rainfall in Iran falls between November and March. June and August (the hottest months), don't have almost any rainfall most of the time. The precipitation is sometimes concentrated in local, but short, violent storms, causing local flooding and erosion.
Planting trees with the Ilam University
Over de last couple of years, we have carried out multiple projects in Iran. One of these projects was planting under a research project in Ilam University. Ilam province is located on west of Iran and near Iraq-Iran border. As it is a mountainous province the altitude from sea level is various on its different parts for instance there is about 3000 meters altitude difference between its vast hot fields and high mountains. The climate of this province is divided in three zones of dry and hot, mild and lastly cold and mountainous. On its northern mountains the temperature falls to -15°C and the precipitation is around 500mm annually. On its western and south western plains with an altitude of 300 meters from sea levels the maximum temperature reaches 45°C and it has around 200 mm of precipitation. In the central zone the climate is mild and temperature varies from -5°C (minimum) to 40°C (maximum) in different times of the year.
Ilam is one of Iran's provinces that faces the dust challenge that originates both from within its borders and outside of it from Iraq. The Oak forests on the mountainous areas are of valuable natural resources of this province.
The college of agriculture and natural resources of Ilam is located in the suburbs of Ilam city, the most important city of the province. On May 11th 2016 we started a research project under the supervision of Dr. Masoud Bazgir the head of agriculture college and with the cooperation of our soil specialist and chairman of the board Dr. Kioumars Sayadian and Graduate student of combat desertification and board member of Zist Fanavary Sepehr Bakhtar Co. Ms. Tahmineh Sohrabi.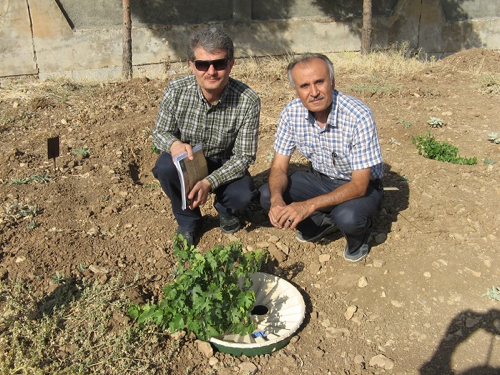 A great collaboration with the University! Click here to see all the pictures of this project in our photo album!
Start your own tree planting project!
Do you live in Iran and do you want to start your own tree planting project here? That is possible! You can plant for the beautification of your street or city, start a reforestation project or even start with urban farming. Everything is possible! Click here to order the Waterboxx® or Growboxx® from our distributor in Iran and ask him about the options! Do you want to keep an eye on the latest updates of our tree projects in Iran? Please follow us via Telegram!