Investing in Groasis is investing in a sustainable future
A changing climate, the scarcity of fresh water and a growing world population that is increasingly malnourished. They are all topics that have recently emerged in the news. Is it possible to contribute positively here?
Yes, you can! You can contribute to a sustainable world by investing in the future of many people. People who are both nearby and those who are far from you. How does this work? Friends of Groasis BV owns 5% of the shares of Groasis. Friends of Groasis offers various types of shares to you. By buying these shares you invest via Friends of Groasis in Groasis and we donate Growboxxes (including trees, vegetables and BioGrowsafe plant protectors) to rural families and train them. This allows these families to meet their food requirements within a year - while saving 90% of water.
With the capital we raise we will set up a global network of local production plants to produce the Growboxx® plant cocoon. We thus not only create work for locals, but also keep the costs low so the Growboxx® is affordable to all, and ensure that more (productive) trees can be planted in a water-saving and efficient way. In addition, more food can be produced by and for the local population, they can earn a living for their families and the trees that are planted extract more CO2 from the atmosphere.
The shares offer even more benefits. They are freely transferable, can be purchased by private individuals or by companies and they are a nice gift for your (grand) children - with an eye on their future.
The different shares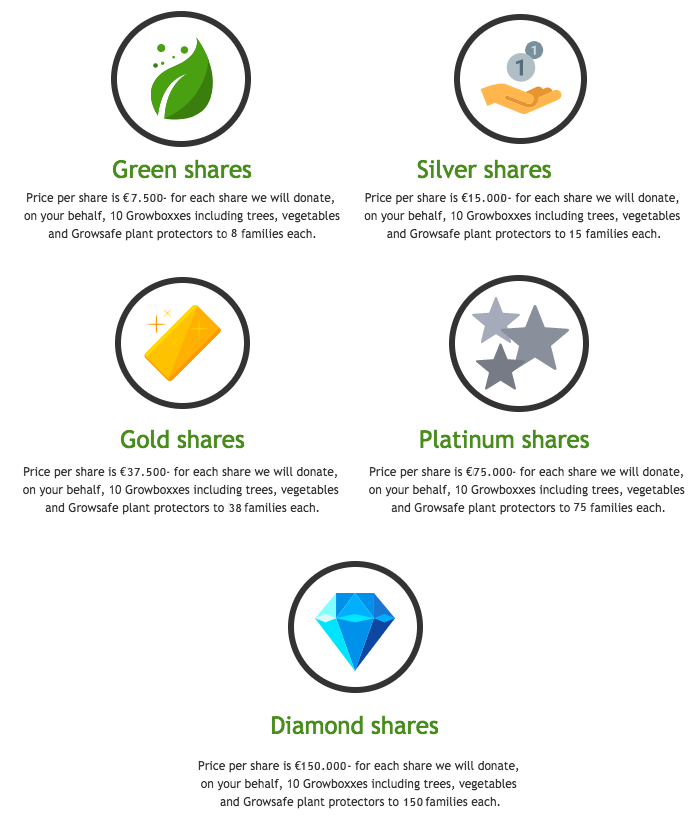 Availability of shares
In total, we have the following shares available:
3 Diamond shares
14 Platinum shares
30 Gold shares
50 Silver shares
50 Green shares
Note: In 2018 Friends or Groasis will issue up to 50% of its share capital. It reserves the right to increase the price of the shares if the demand exceeds the number of shares available. We also reserve the right to change the number of shares that are issued; for instance instead of 1 Platinum share, we may decide to sell 2 Gold shares, 5 Silver shares or 10 Green shares.
Become a Friend of Groasis in just 5 steps!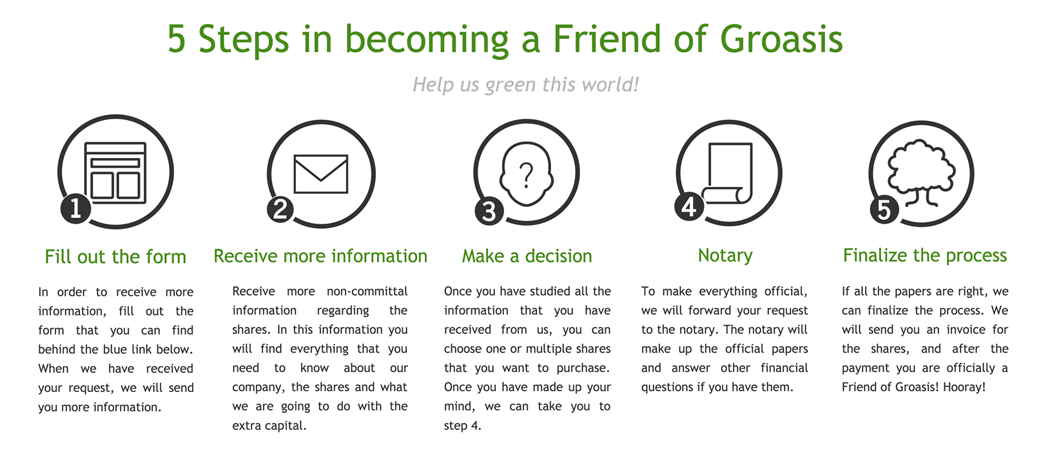 Click on the image to enlarge
Are you interested in purchasing one or more shares, or would you like to receive more information? Start with Step 1 and click here!