Make the world greener with Platinum Shares
For many people, investing €60.000 is a significant amount. Questions that you may ask yourself are 'In what do I want to invest?', 'What will happen with my money?', 'How big is the risk that I am taking?' and 'What returns will I receive?'.
Before we answer those questions, we want to tell you something. There are many companies where you can invest your money, and they are probably also searching for more capital, just like us. And that is why we want to introduce ourselves first. We are Groasis. Maybe you have seen us on the television last October, when we received the National Icons Award from Minister Kamp (Economic Affairs of the Netherlands). If you don't know our company and our products, we will give you a short introduction.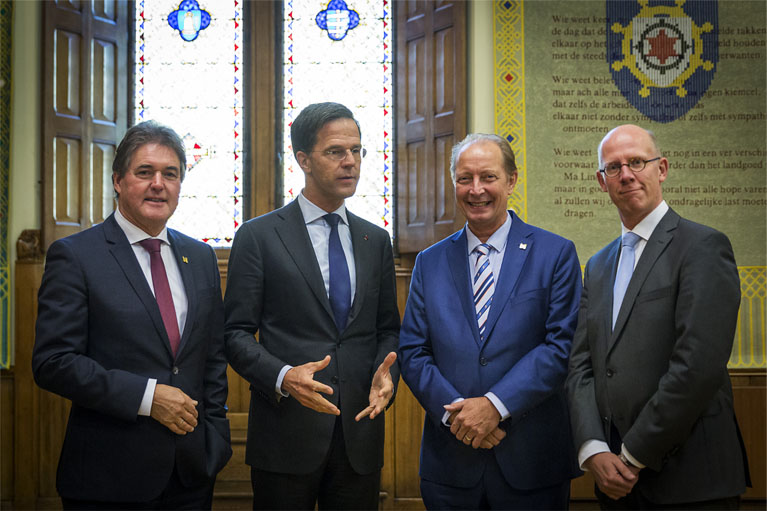 The winners of the National Icon with Prime Minister Mark Rutte (second from left). On the right side of Mr Rutte is Pieter Hoff standing (the inventor of the Groasis Ecological Water Saving Technology).
How are we going to make a difference?
Groasis has dedicated itself the last decade to develop products to plant trees, shrubs and/or vegetables in areas where it wasn't possible before (or only with expensive irrigation systems). Most people in dry and eroded areas don't have money for expensive irrigation systems that consume a lot of water. Therefore we have invented a product that consumes 90% less water and which is 90% cheaper than other irrigation systems, called: the Growboxx® plant cocoon.
With the Growboxx® plant cocoon, a farmer, individual or family can plant a fruit tree in combination with 4 vegetables. The vegetables will produce harvestable crops within the first planting year and give the grower the opportunity to sell the fruits, or to consume them. After a couple of years, the fruit tree will start generating fruits as well.
Besides planting fruit trees, the Growboxx® plant cocoon can be used to plant native trees in combination with bushes and/or wildflowers. These trees are mostly planted by governments or companies to reduce their CO2 emission, for ecosystem restoration projects or agroforestry projects. In our upcoming project, bought by the Mexican State of Baja California, trees will be planted to reduce the effects of sandstorms.
Together we can help the people in need!
The Growboxx® plant cocoon is our latest invention that we already have tested in more than 30 (!) countries. Our next step is to increase the scale of production and green the world bit by bit! But we need your help. Do you want to invest €60.000 or do you want to receive more information about all the possibilities? Please fill out this form to receive more non-committal information and we will be happy to help you!