Summary of the Groasis Technology
Introduction
The Groasis Technology is introduced by AquaPro Holland, a private company founded by inventor Pieter Hoff. The Groasis Technology (GT) is a planting technology -- it is not a way of irrigation. While planting during the first year, water savings exceed 90% compared to any other planting method. It is a bio-mimicry technology which consists of:
improving the soil with mycorrhizae;
leaving the capillary structure intact;
using plants with the right primary taproots;
using the Waterboxx (and if necessary, even when planting on rocks);
using the capillary drill.
The Groasis Technology is a copy of how Mother Nature solves the problem of growing plants in deserts, eroded areas, badlands and on rocks. In this way, we can replant man-made deserts or eroded areas, restore the vegetation cover, and make them productive with trees for fruit and wood, vegetables, and bushes with seeds and berries for both man and wildlife.
Proven technology
The Groasis Technology is used in over 30 countries with good results. If you follow the planting instructions step-by-step, you will be able to plant any dry, eroded or rocky place with over 90% survival rate. In our photo library you can find thousands of relevant and instructive photos. We have also placed over 70 videos in our YouTube channel that help you understand the technology and get the best planting results.
Independent control
The University of Valladolid (UVA) in Spain is doing a 5 year research program - 'The Green Deserts'. It is financed by the European Community with 1 million euro. In 2011, there were 16,000 boxes planted (and a 10% control group without boxes). The trees planted with the Groasis Waterboxx had a survival rate of 90%; the control group, only 14%. Find the report of UVA here. In 2012, UVA will again lead the planting of the next 16,000 boxes. You can also visit www.thegreendeserts.com to read more details.
Science Award
In November 2008, the Groasis Waterboxx was rewarded the Dutch Bèta Dragons Science Award 2008. This competition is organized by the Platform Bèta Techniek in cooperation with the Dutch Ministry of Economic Affairs. The jury was very positive about the potential of the Groasis Waterboxx as a solution for ecological, climate and poverty issues. Photoalbum of the Dutch Bèta Dragons Science Award 2008 ceremony.
In May 2010, the Groasis Waterboxx was chosen by Popular Science - America's biggest science magazine with 3 million readers, as one of the top 10 inventions of 2010.
Please visit : June 2010: Inventions of the year and A box that keeps plants hydrated in the desert.
In November 2010, Popular Science organized the 4th Annual election of the 'Best of What´s New' innovation. This competition took place between 117 fantastic products of Fortune 500 companies, including the iPad from Apple and the Ledlamp from Philips. The Groasis Waterboxx won the Green Tech Award (in the category "Sustainable Inventions") -- and also won the 'Best of All' award.
Please visit : http://www.popsci.com/bown/2010/product/aquapro-holland-groasis-Waterboxx and
http://www.popsci.com/bown/2010/awards
These awards show that the Groasis Technology is widely seen as a break-through to a modern, sustainable way of planting without the use of energy and scarce ground water.
Explanation of the functioning of the Groasis Waterboxx
The Groasis Waterboxx is a copy of Mother Nature. Mother Nature doesn´t plant but sows -- by birds or grazing animals -- ON TOP of the soil. Manure functions as a cover so that a capillary column (= humidity column) develops. Seeds germinate, develops their roots in the capillary column, and once water is found, leaves develop; and then, evaporation and photosynthesis can start. This technique has worked for billions of years, and therefore, trees can grow even in the Rocky Mountains or in the Alps, which consist of granite rock and stones.
Growing trees on rocks or in deserts is not a problem. Planting and germinating -- bringing the tree through the planting period until it gets its water from the natural capillary water -- that is the problem! That is key problem that the Groasis Waterboxx solves. Like nature, it is both a sophisticated and yet very simple planting concept. Read more about the Groasis Waterboxx, copying Mother Nature.
Roots
During the recent 5 years of practical experiments, AquaPro has found that at present, over 90% of all commercially produced saplings, have roots that are not capable of penetrating dry or rocky soil. Plants have two types of roots: one radical (primary or 'taproot'), and multiple secondary roots. The primary root is capable of breaking rocks -- the secondary roots cannot. Read here information about saplings and seedlings of trees and shrubs and information on how to create roots (root systems) that are capable of keeping your plants alive even after planting in dry areas without using irrigation. In this page, you can read info on how to make good planting material for trees and shrubs. You can also watch this animation that explains the principles in 1 minute!
Twin-planting
The cost of saplings or seeds is only a fraction (less than 2.5%) of all the costs that a company has while planting. All costs - e.g. capital investment in land, organization and management, offices, crop maintenance, taxes, interest, etc. - have to be considered and calculated. Therefore, to be successful and economically sustainable, it is important to have as close to a 100% plant survival rate as possible. In order to reach this rate, and to have a better micro-climate in the center of the box, AquaPro designed the Waterboxx with an 'eight-shape opening'; this not only is effective in managing sunlight and heat, it also allows us to plant two saplings or multiple seeds at a time, which increases survival and productivity. Read here about the advantages.
Make money with trees
Use of the Waterboxx costs between 1 - 2 US$ per planting, depending if you plant once or twice per year.
Investing in trees is an interesting and secure way to make money. With the Groasis Technology, it is even more interesting. The Interactive calculations document shows you that using the Groasis Waterboxx saves money on the investment and increases revenues due to higher (biomass) yields. Increased profit is the result of these effects.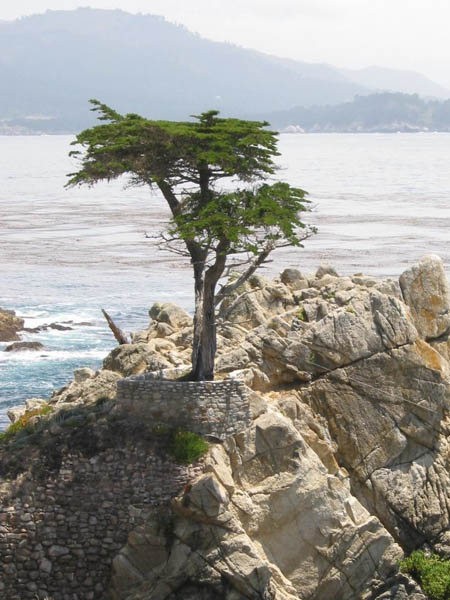 Trees grow everywhere
Trees grow in deserts and on rocks. Most of the mountains on Earth are covered by woods. All mountains on Earth are rocks -- just think of the name "Rocky Mountains". This picture shows the 30 meter high and famous "Lone Cypress" near Monterey California growing on a 200 meter high rock. (photo: "courtesy Wikipedia") How is it possible that trees grow on rocks, in deserts, or in eroded areas? The secret of this capacity lies in the 'capillary' (natural capillary water and soil structure). Read all about capillary.
Planting on rocks
In order to overcome the difficulty of planting trees or seeds on rocks, AquaPro designed and additional planting aid: the capillary drill. This machine makes a planting hole without destroying the capillary of the rocks. Read all about this astonishing machine.
Conclusions
The Groasis Waterboxx is a practical instrument without maintenance costs, capable of:
solving the problem and improving the results of planting trees in moderate and arid areas;
causing a 15 - 30% higher production; and
reducing the costs and improving the profitability of planting a wide variety of trees, bushes and crops.